Today I woke up at noon! I used to be an early riser but having started working I now realize how much I value my extra sleeping hours. XD
So we decided to try a Korean fast food place from the food hall in the shopping centre.
This was their version of the korean equivalent for japanese
bento
(I couldn't remember what it was called).
This was omu-raise and some rice noodles. It was quite nice but didn't taste korean at all. It tasted local but good nonetheless. Was also very filling --- with all the rice and noodles it's to be expected I guess.XD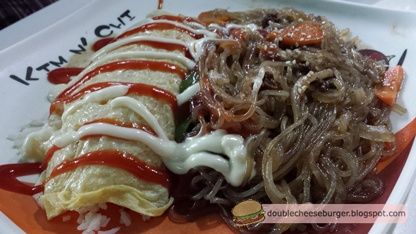 Friend Dumplings were nice but ordinary. The wrap was crispy and the filling soft. But I couldn't quite figure out what it was filled with.:P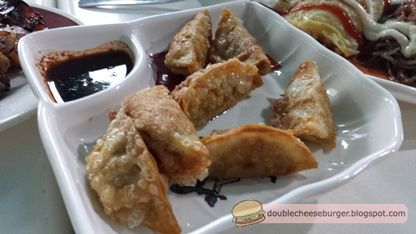 Chicken Barbecue -- very tender and tasted sweet and barbecue--ey. Very
local
-tasting and not Korean but yummy.
Dumpling Ramyon. Was awful. They used cheap local instant noodle packs. XD The soup base was nice however.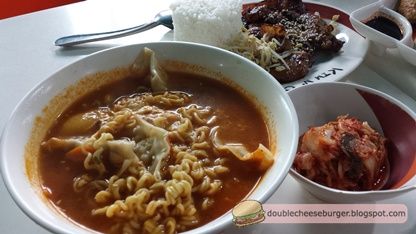 My meal. Is it a lot? I had quite an appetite that day and wanted to try everything.
Their kind of Bento!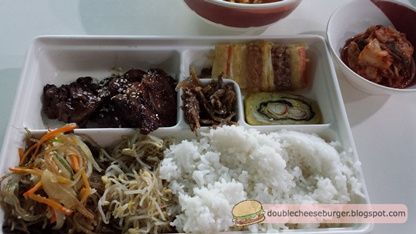 Side dishes, local dilis, egg rolls, and crab sticks (and a rolled-up vegetable leaf) on skewers.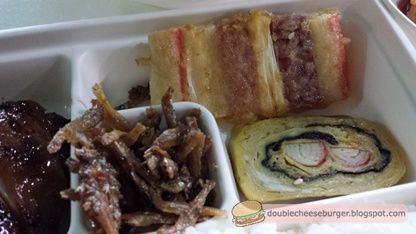 ...
For a fast-food at a food hall it wasn't very cheap. But considering how expensive Korean-related dishes are here, it wasn't so bad. The taste caters to
local
palate and did not taste authentically Korean; but it was quite yummy.
***
KimN'Chi @Food Choices G4
Overall:
Food 7/10
Service 6/10 *The staff were not very kind at Glorietta branch, and I much preferred the staff at Galleria branch.
Presentation 7/10