Spent my weekend afternoon watching
Il Commissario Montalbano
, an italian detective series, with some
classic
crackers and cheese.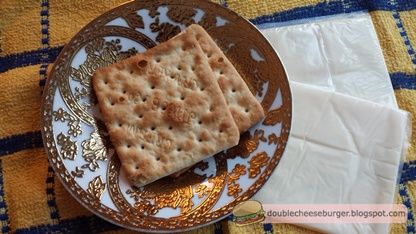 Having Crackers and Cheese reminds me so much of one of my favourite animations,
Wallace and Gromit
. In one of the episodes, '
A Grand Day Out
', they build a rocket to fly to the moon only to realize he's forgotten the crackers! He takes the crackers and returns just in time. Shortly after, they reached the moon and realized it was made of Cheese! So they set up a picnic blanket and cut up
moon cheese
to eat with the crackers.
The link to the wiki entry
here
.
No
moon cheese
for me but
Australian
-made cheese singles instead.
With it. some
milktea
. Normally I'd just have tea (without milk or sugar) but some days I like it sweet so milktea it is! :D (Also it is perfect for this neutral tasting, slightly salty cheese.)
Looks lovely. I also love how it complements the gold plate. (Did you know i got the plate at a flea market for only 10(local currency), which is about 20yen/0,15euros. *A* It's really amazing, the things you find at flea markets! However, being at a flea market where you don't speak the language is a little difficult because I don't even know how/where to begin to haggle.:P Then again I enjoy checking out the goods.:D)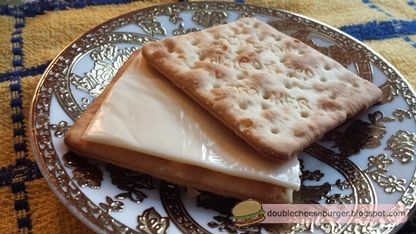 Anyway, today was our highschool homecoming which I didn't attend. I totally forgot about it until I turned on my laptop and checked facebook. (I turn off facebook notifications on my phone because I find it a little pesky...n_n) Turns out a lot of people went, and not much has changed. I'd have enjoyed going there, yes; but I only spend 54 days a year at our weekend home and it's the only time I have for myself. :3 (I sometimes find it difficult to explain this to people.) Other than that, I prefer to spend time with friends rather than acquaintances. (Partly, I am convincing myself I made the right decision not to attend, but it is also partly true. 85% of the people there I hardly talk to -- even back in school.)
But, that is that. XD
This was the VHS cover of Wallace and Gromit.
(photo credit: wiki)
Mine was the 2-CD VCD version which I watched on our Windows95 comp! (It feels so ancient!!)
I remember buying it from HMV Hong Kong because it wasn't available in my country. We used to visit Hong Kong (
Dad's hometown
) every year a long time ago to visit relatives. Now we hardly visit and I miss it. It is so much more diverse than here, the culture, the shops, the fashion, and you're bound to find the things you're looking for. XP
(i.e. collector cards, figures @WanChai, fake branded goods with quality @NorthPoint, Very yummy cookies in sanrio lunchboxes @Mannings/Watsons, Manga, Fashion Magazines @Newsstands everywhere -- and there's the annual expo, where they give out a lot of freebies *A* Well, you have to pay a
minimal
amount to enter. But, one things that I miss most is the food. xlb, chee cheong fun, satay, charsiu, stinky tofu, and those egg waffles from street vendors!) -- The list goes on forever and I think I should make another post for this!!
`A plouche!! :X