Hello~~
I've just recovered from a bad cold. Well, I still sound very awful but I feel so much better than the first two days.
Would you believe I woke up with a very sore throat on my birthday?! Haha!! Talk about coincidence.X_x
Anyway, I can't wait until the weekend (tomorrow). I have so much to do and to post.
Besides photographing my haul from the last two weeks, a friend of mine asked me to translate a document. It isn't much but I don't mind earning some extra.XD Actually I said I'd do it for free anyway since I'd do anything to save me from boredom. :P
Highschool homecoming is this coming sunday. I can't believe it's been 10years. I'm both anxious and excited but not anymore because I have decided not to attend. (
I am feeling very anti-social right now but I've never been so social to start with.
) I have responded to the invitation and said I couldn't because I had work on saturday. And then someone replied and said it was on a Sunday!! OMG. I seriously thought it was on a saturday. (My reason for not going -- a lot of people aren't attending, none of my "friends" are going... and there isn't anyone in
particular
I want to see...So. That is that.)
Anyway, found a few photos from 2012 on my
"TO POST"
folder...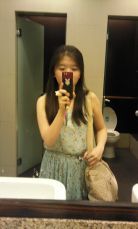 .. I don't do
throwback
but what the heck. XD
~*~
Until my next post! :X