This evening, with lack of a new restaurant to dine at,
we ate here, at Gumbo, because we haven't been in quite a while.
The interior remains the same, dark, woody...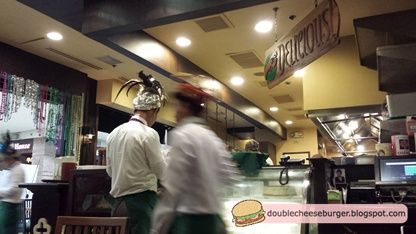 And this is me being my tired self after a day's work. D:
There used to be more people dining here... But I guess it's a little expensive..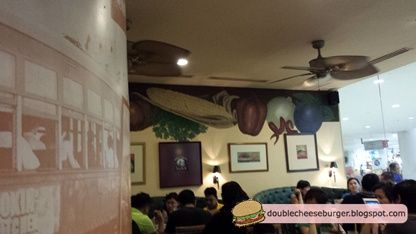 so while we waited they served some bread and oil.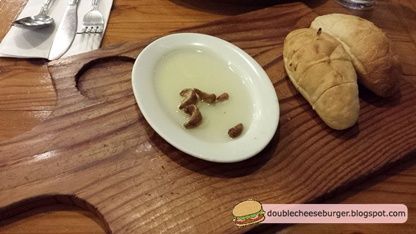 Haha. Oil literally because it was just oil. No herby flavour nor a hint of garlic or spice.
And it was only two pieces of bread for a table of three. O_O
And so we waited and waited for what seemed like forever. (sorry, but the food just took too long! And considering there wasn't a lot of people that evening.)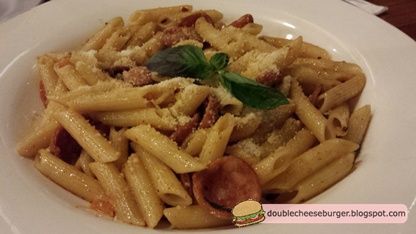 And finally the first dish came out,
Sicilian Pasta
. Penne, tomato sauce, and sausages. Quite overpriced for something so simple I think.
It tasted good, but it was something I could cook even better.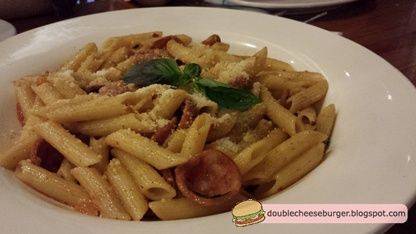 Next came the
Cajun Chicken
, for this you can pick two sides.
We picked Cajun Rice and Fries.
The cajun chicken was served very hot and crispy. But I was disappointed to not find a hint of cajun! :O The rice however tasted very nice... the rather spiced up Cajun rice blended with the neutral tasting Fried Chicken. :3 So I had a good meal anyway.
The fries were nice as well, I love the rough slices and the texture. It was seasoned with Sour Cream no doubt, and I love sour-cream flavoured chips so I was satisfied. :P
Whether I'd come to eat again I'm not quite sure. It is too overpriced for mediocre-tasting food. Don't get me wrong, I quite enjoyed the food and I left with a happy tummy but for that price I'd rather dine somewhere serving a more exquisite flavour.
An American style restaurant serving a bit of everything.
***
Gumbo - A Taste of New Orleans @ Robinsons
Overall:
Food 6/10
Service 7/10 (Service was not too bad but too slow.)
Presentation 7/10