Monday, January 30, 2012
La Salle Chapel, Hong Kong
[
Halfway through I ran out of ink.>_< So had to use another pen to finish, colour was a bit different, but good thing it's unnoticeable.
]
[
Made a minor mistake as I was filling it in and doing the finishing touches. Can you tell where?:P
]
Sunday, January 29, 2012
Was still crazy about vampires and
blackXred
themes.
The chair in this photo is inspired by something I saw from
Vampire Knight (anime)
, and the character, just some random one I came up with.:P
One of my failed attempts at watercolour [Have always been bad at watercolour...], not quite satisfied with how this turned out (the mistakes are so obvious), but I like the chair.:D
At some point was crazy about vampires and the
Twilight Saga
..
My less-than-10-minute sketch of the book cover...
Seems I am not so good at lettering..Heh.x_X
Some more sketches from back then, used to draw on anything. The French BD culture inspired me (
and still does!
), and was experimenting with faces like these.>_<
-
The first drawing I posted on my blog ages ago...>_<
-
This is one of my favourites, I think it's really cute.:D
-
Nomming on a mashi-maro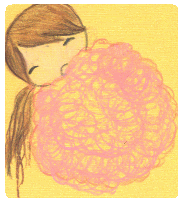 -
Have more of these faces, shall post them sometime.:D
Today though I'd do some sketching since I haven't been for the longest time.:D
But was cleaning my room for hours and ended up too tired to do anything.=_="" Hehe.
I used to have my sketches in a separate link before (2008-jan2011). But since I have changed my layout last year I have forgotten to post them again.>_<
So here are some works I did in pencil before:
[
Some of these are from 2008 and were taken with my Samsung e890 phone.
]
Was a very tiny photo from a travel book...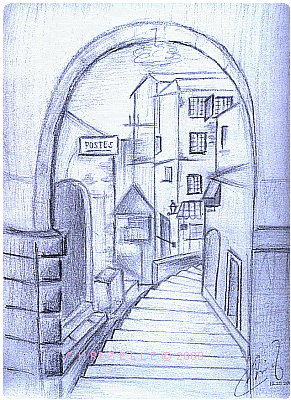 -
The Two Towers, from LOTR book illustration..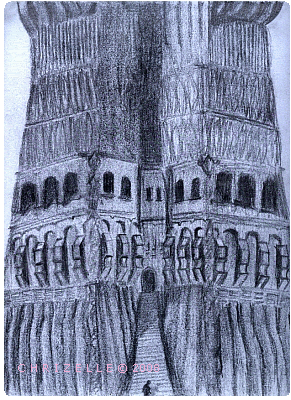 -
About a Boy, from the movie/ and also book cover...
(Hehe, okay, this does not look like Hugh Grant, but at least it looks human.XD)

-
This was from a Levi's ad...
~
So far these were the only ones I have uploaded.XD
Let's see if I can find some more.:D
Monday, January 23, 2012
Time to take my Nikon out for some CNY snaps.>_<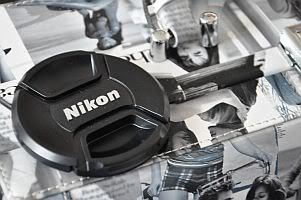 Following photos are from yesterday's events. (Except for lasst four photos, the rest were taken with Nikon.]
-
We usually celebrate CNY Eve with family and relatives. This year, we're headed somewhere different.;p
A look at the lobby. I love the interior od this hotel. [I wrote a ppost on this one before, but photos back then were taken with my psp.]
Tables were set up here and there for the night's events. [seems it will start at a later time.:P]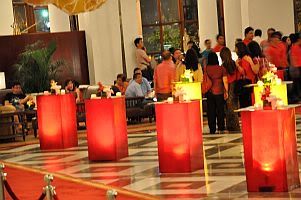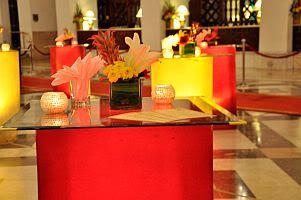 A look at the rest of the lobby,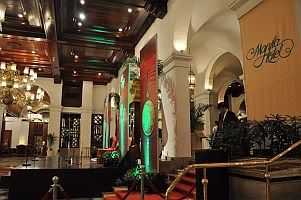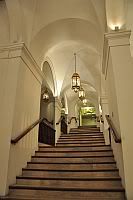 They have a huge dragon on their ceiling! :P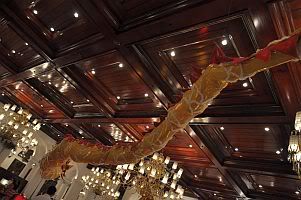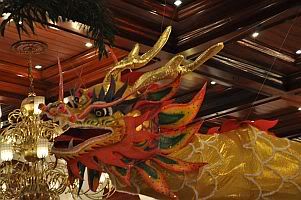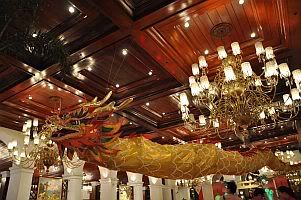 Beautiful.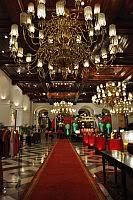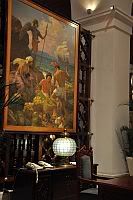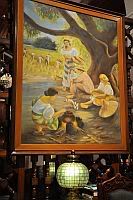 Saw this sign and thought,
what bazaar?
>_<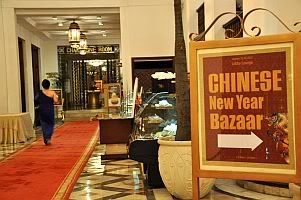 Turns out it was referring to this...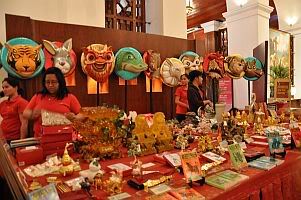 Wasn't much of what a bazaar should be really, was just one stall selling...stuff.
The 12 animals in the Chinese horoscope...[
Where is the rabbit?:P
]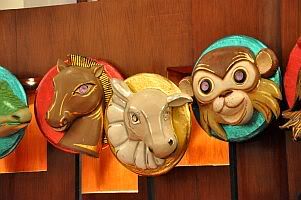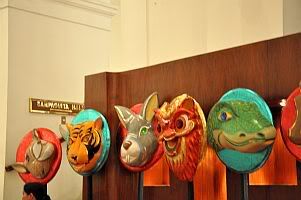 They also have some chinese-inspired thingies set up with the arches.
Here, the stage for the evening's performances.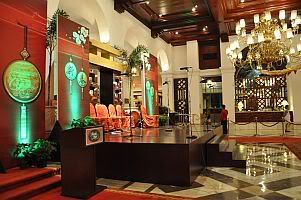 -
Last time we came here we had buffet.
Now we are trying a different restaurant,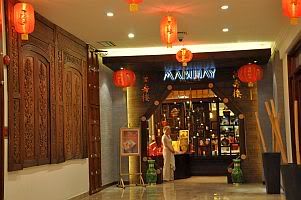 The lion dances came first.. Here they are as they entered..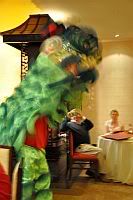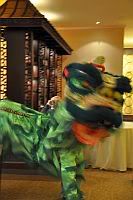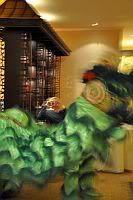 Our table, [without the foodies yet...]
To my right, was this:
-
And the dragon came: [
They go around each table.:P
]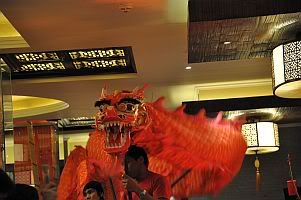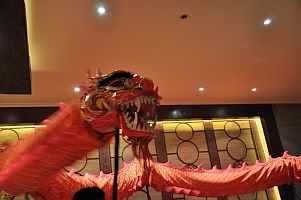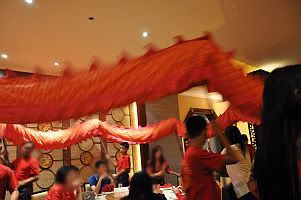 -
This is as far as I could zoom!!
-
This is what the people do: [They usually put the
hong bao
-'red packet' (with money inside) as high as they could, and the lion tries to get it. Some take very very long, especially in the streets! Have had experience seeing one back when I was a kid... the red packet was hung on the 2nd --or was it 3rd-- floor of a building... the performance took quite some time, but hey managed to get it in the end, of course!]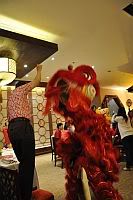 -
This is my cousin.. and my other cousin who wanted to lift him higher.>_<"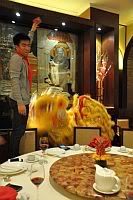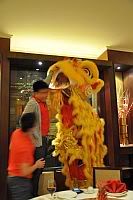 ...but they didn't in the end,:P
-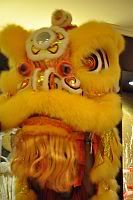 Another cousin, with the red version.:P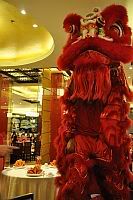 One more shot as they were about to leave: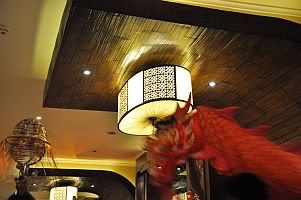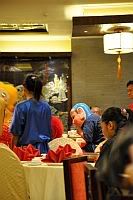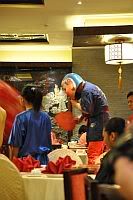 ~
Now to the FOODIE!
..
First up was salad
Was with some raw....salmon?
Heh! Where else have you seen someone eat their salad with chopsticks!! >_<
..
Soup, was quite good. What soup was this..? I know the name in
hokkien
but not in english.x_X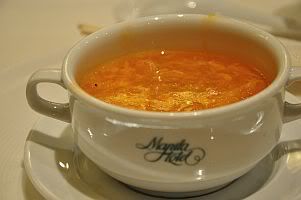 ..
Next was shrimp, fried, with some mayonnaise. Was quite nice.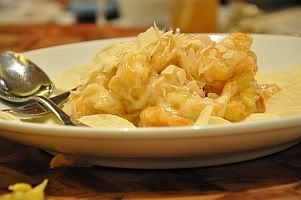 ..
Some mushrooms, abalone, sea cucumber, and the usual whatnots...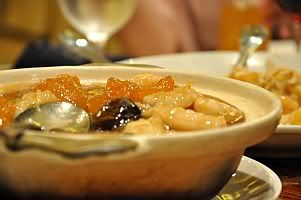 ..
Crab! Was good and garlicky. Would have loved more garlic though...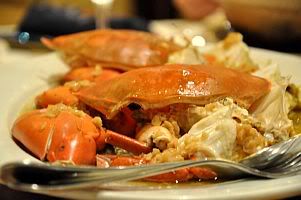 ..
Fish, and some cured pork meat in between.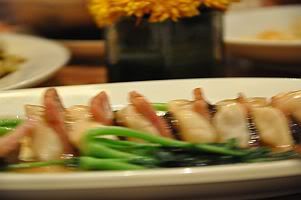 [
Soz for the blurry! >_< Someone moved the table before before I finished clicking...x_X Hahaha. Would be impolite to move it back.:P
]
..
Very very tender (and err, a little fatty) meat. Was good.
..
You might wonder what this is...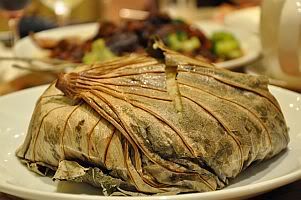 It's actually rice inside.
This is supposed to be sticky and all. But this one is not as sticky as I expected. Haha. And a little too plain...
..
Some dumplings. Coould not get a good shot.o_O
These were yum!
..
And finally, some sweets!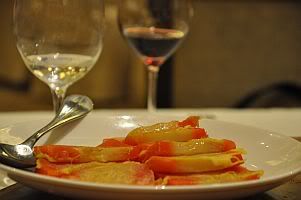 Is quite traditional to be eating this on CNY. But here, it's a little different from the normal one.:P Also tastes a bit like almond.
Hahaha, wasn't too sweet, which I quite liked.
Good thing I was well in time for this! [some days ago I had a sore throat! x_X Well, now I have a cold but it seems to be going away.:P]
..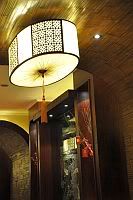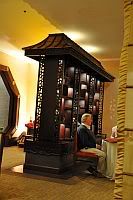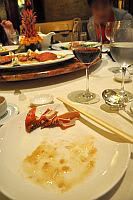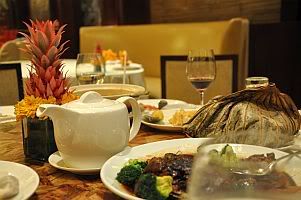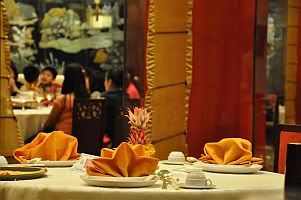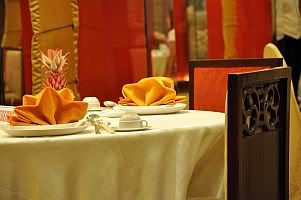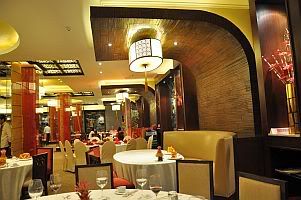 -
As we were about to leave, the lobby was now full of people.:P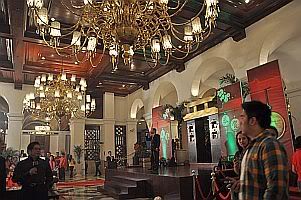 -
Some dude in a dragon costume, the rest of the lobby, and people with balloons outside..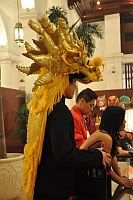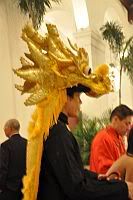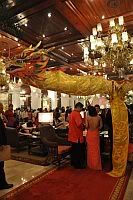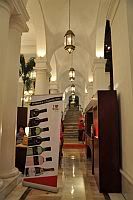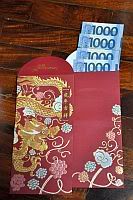 -
One thing about CNY is that you can get some red packets (filled with money).>_<
~
What I wore to dinner: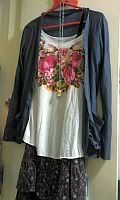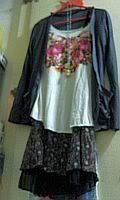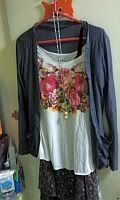 ~
And here's the 100th photo, (just for the sake of it, I am posting this photo to make it 100, just for fun.>_<)
~
Happy CNY!! ^_^