I've been putting off blogging for weeks now.
I don't know. There's so much I want to write.. but after work, in the evening, I just feel too tired to do anything. o_O Usually I just watch a few episodes of something then it's time for bed. Then the same thing repeats itself the next day..and the next.. =_=
Some 10 things I have been up to of late:
[1] Finished reading
Agent Six
by Tom Rob Smith. I have loved his books since
Child 44
-- Seriously the best book I've read in a very long time. But his third book was a disappointment. I read it through to the end, after reading I can't believe how I managed to finish it. It went around in circles and dragged on about the character's addiction to opium. He just pretty much killed his main character in the third book..
[2] I started knitting a beret -- but!! Halfway through I realized my mistakes and it is such a waste to frog and pointless to continue. So I just left it as it is. XD When I find some err,
inspiration
to continue then I will. But for now.... I want to work on a different project! (haha, I have to be more patient.. XP)
[3] I am still playing the guitar (on weekends only -- for about an hour). Remember when I decided to learn the song 'Asturias' by Isaac Albeniz same time last year? Well, I haven't progressed much but I think I have improved on some of the difficult parts. It is such a beautiful song to play, I really love the sound of the strings. It is still too difficult for me. But I am learning at my own pace. I can play the intro wonderfully *A* but I am determined to at least try to play the whole song.X3
[4] I have put
El Secreto de Puente Viejo
on hold -- and started watching some other series --
Gavilanes
- dropped,
Bienvenidos al Lolita
- dropped,
El Principe
- still watching,
Sherlock - Season 3 UK
- have just started watching and I still love this series. I am about to start watching some other UK series after it --
Lightfields
,
Shetland
,
Vera
, and
Orphan Black
.XD I am such a tvseries junkie. :P
[5] Also watched some japanese dramas, one that I finished two weeks ago was
Itazura na Kiss ~ Love in Tokyo
. I read the manga, watched the anime, and now the drama! It is so nice. :) I downloaded the drama a long time ago. I attempted to watch it a few time but found it too corny, or the main guy too annoying -- the main guy not so much my type. BUT! It has been sitting on my comp for far too long and I decided to give it a go again. And surprisingly I didn't find it so bad this time.:P
[6] I have also been putting off sorting photos for a long time. (Ah, I procrastinate more than I should!) So far I managed to sort 1-day worth of Munich photos, some Paris photos (
I know, these were so 2011 but there were just too many photos! :O
).
*note to self: japan, paris, rome, madrid, munich, vienna, florence -- have yet to be sorted*
(by the way I also went through some China photos from 2010 -- I'm posting one next week on my photoblog --
snapperoni.blogspot.com
. :3 Click and drop a comment!*A*)
[7] I started reading
A Thousand Splendid Suns
by Khaled Hosseini.
The Kite Runner
was such a beautiful book -- and so moving. I have read good reviews about this one and I am sure it will not disappoint. I bought the book a long time ago but the weird thing is I have been saving it for later.XD When it comes to a favourite book, I start it when I know I have a lot of
quiet
time by myself to read it and appreciate it. I hate being distracted and talked to when I start reading something I like. In my case the best time to read is when everyone else is asleep. Bad habit? =_=
[8] Watching Pékin Express (French)- Season 10! I didn't like the participants at first but now I have my favourites! Actually there's only one team that I don't like this season.
[9] Addicted to D&CO (French show on M6) - Amazing what they turn run-down houses into. Watching ti makes me want to redecorate my room (but not the complicated parts like taking walls down) -- just the
"out with the old, in with the new"
concept.
[10] Also watched:
The Hobbit - The Desolation of Smaug
- cliffhanger but good nonetheless.
The Bookthief
- Beautiful, moving. But it also made me want to cry happy-sad tears. It was that kind of movie. Realistic and I highly recommend. It was depressing but undeniably good at the same time.
The Lunchbox
(Hindi film) - I haven't seen any Indian films in a while and this was nice. The story was simple and light. It revolved around India's lunchbox concept and the story develops from there. It focused a lot on the characters' relationships - the feeling of loss, finding some again, rejection, self-realization, friendship, and how these relationships can change someone. It may portray more than that but the was how I found it. Also recommended.;D
***
Haha, maybe I should start writing reviews!
~*~
(
Tomorrow I shall write some long overdue posts. XD

Sneak Peek:
)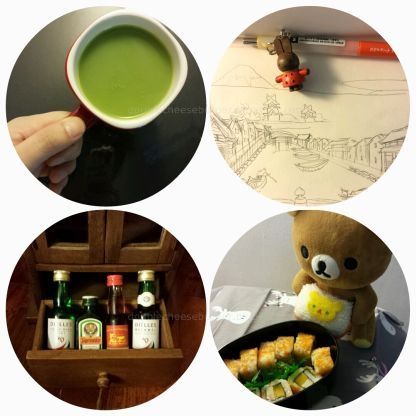 These photos may have shown up on your feed at some point if you follow me on
Instagram
. X3
Á plouche!
...
2014/05/18 - Sketch - View from the Nihonbashi in the old days. [
click here to read
]
2014/05/10 - Food Review :: Almon Marina Sandwich Bar & Deli [
click here to read
]
2014/05/04 - Beautiful Weekend Sunset [
click here to read
]
2014/04/27 - Food Review :: Seattle's Best Coffee [
click here to read
]
2014/04/26 - Food Review :: Almon Marina Sandwich Bar & Deli [
click here to read
]