For dinner today I had
1/4 Roast Chicken with choice of Pasta and Salad
.
I don't usually like this part of the chicken because it's too lean and too dry; But when I dine here I don't mind at all because the meat is so tender and tasty! I also like the sweet tangy BBQ sauce they brush it with, not too strong, just enough to keep you looking for that taste.XD
I also had half of this one,
Sausage with choice of pasta and Salad
.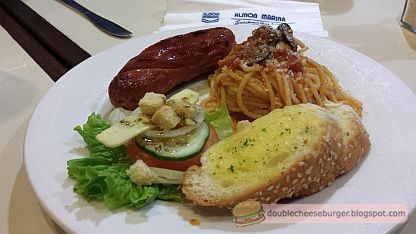 The set menus at this place are not too expensive and not that cheap, but the food is wonderful.
This was our second visit this week and it was good as usual.:)
***
Almon Marina Sandwich Bar and Deli @Robinson's
Overall:
Food 9/10
Service 8/10
Presentation 8/10