My recent purchases -- thought I'd post them. (
Also to remind myself I have these in my closet!
)
-
-
-
-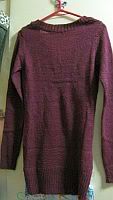 -
This brown one came with a belt...
...
but I'm planning to use the belt with a different outfit
...
-
I have something similar to this outfit, with a short sleeve in a different colour.:D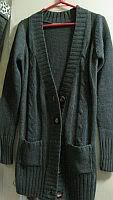 ~
Oooh, and this one I got at a very cheap price. Saw this before but didn't buy it, and now they have reduced the price! (note: this is from a different shop..)
There seems to be something off about this, but I bought it anyway...
The lining is nice and silky! .. the pockets too.
I am planning to make some modifications on this.. So that I can turn it into a vest when I want to.
(I seem to like it at this length better.)
~
Lastly, here was something I got from H&M during my trip.
saw something similar to this, in gold, on someone else's blog.XD
If you're wondering how I keep my clothes, I keep them in Ziplocs like in the photo below..:P [
...to keep them clean, since I won't be using them until the end of the year...
]
~
Until my next post! :D