Met with the wonderful
Rob and Mandy
, who took us for a quick tour [But was too much for me to remember on a first day! Lol]. *info.glut* >_<
Huuuuge thanks to them for coming out to meet with us despite their busy schedule! [Haha, they were going to Strassbourg early the next day, and I know they need to do some last-minute packing and all...:P]
Anyway, here are some photos from our walk: [a lot of blurry takes too. Haha, but so long as the street names are readable is tolerable.>_<]-- helps to take photos of street names! ;p [Am having fun looking them up in Google Maps. >_<]
-
The Francesc Macià monument (side-view!>_<) at Plaça Catalunya:
-
El Corte Inglés seen here: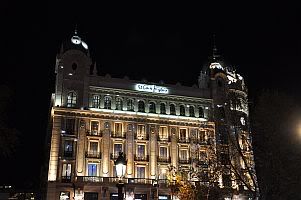 -
From Plaça Catalunya one can head up to different larger avenues/districts. This is La Rambla, and it stretches out all the way to the Columbus Monument at Port Vell [more on that later though! :P].
-
From La Rambla you can go into one of the smaller streets (this time we take the right), and it leads to the narrow but very charming streets of the Barri Gòtic.
-
Església de Sta. Maria del Pi:
Facing the church is this:
This seems to be drawing a crowd... But what is it?..>_<
Another photo of the facade from where we were standing:
The church's main door:
And more!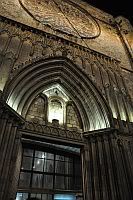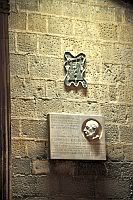 -
A
Solingen
shop! (I didn't actually notice it was, until we went there again during the day some days later....>_<)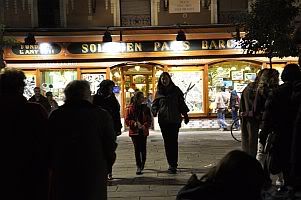 We have been using
Solingen
scissors at home for as long as I can remember.>_< And it seems like a normal thing to me. But never knew there was a shop like this:
(
Hmm.. Now I kind of appreciate these super old scissors....XP
)
-
Some more shots of the streets: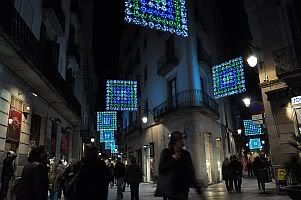 -
Didn't know what this one was at the time I took this photo...
But here is something I found:

when: Nov - Dec 2012 (annual)
where: Barcelona Cathedral
cost: Free

Dating from 1786, the Fira de Santa Llucia is a Christmas fair held every December outside Barcelona Cathedral. Around 300 market stalls sell seasonal goodies, while nativity scenes, musical parades and exhibitions add to the fun.

A much-loved feature of this festival is the giant caga tió, a huge, smiley-faced "log". Much like a Mexican piñata, the caga tió drops out, or 'caga' ('craps'), presents when kids beat it with a stick.

The caga tió is a character in Catalan mythology relating to Christmas tradition and many families keep one in their homes during the festive season (small versions are on sale at the Fira de Santa Llucia's market).


[
Lol.. So these were the "smiley-faced logs" I was asking about...! XD
]
Turns out this was only until 22nd December.>_<



Ah, it is interesting to be learning things all the time.XD
-
Beautiful arches and narrow streets!
Along Carrer del Bisbe Irurita is this bridge that is said to link the Palau de la Generalitat with the Casa dels Canonges. Built in the neo-gothic style by the architect Joan Rubió.
-
Couldn't find anything on this at the moment...
[
I think I have some photos from another day with some story of what this is in memory of...
(or can someone tell me about this and make my life easier? xP)]
-
The sign on this building reads: Plaza de la Constitución.
This is the HQ of the City Council and is located across Palau de la Generalitat on Plaça Sant Jaume. [
Thought of visiting this again during the day but at that time I couldn't remember how we got there. HAHA. =_=""
]
-
They had this up at the middle of the square, was nicer viewed in the evening than during the day.:P
-
One with a view of the Palau de la Generalitat in the back / Something at Plaça de Sant Miquel (
didn't find anything on this square..
) / Another monument at Plaça Catalunya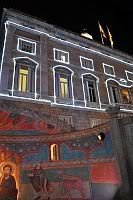 -
And I shall leave you with this photo.:D
[
* Will edit this post and write some captions tomorrow! XD
--
Captions written!! ^_^ 2012/01/25
]