Dinner earlier this evening was at
Bistro Ravioli
. Last weekend we passed by this place and it seemed to have a nice atmosphere + good food + we had to wait in line.
So this week we came a little early! :D
The menu...was quite easy to read. (I picked tonight's food -- One from pasta, ravioli, and pizza)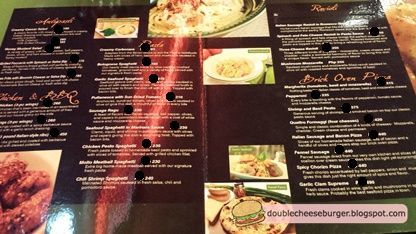 The interior. Was a little dull...but,
what I liked about it were the seats for single diners that overlooks the kitchen (huge glass window, right side of photo)
While waiting for our food to be served (which did not take too long), I took the liberty of taking photos of random things.
Condiments on each table -- chilli flakes, hot sauce.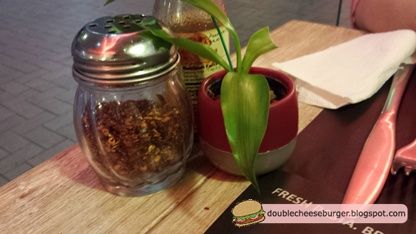 And some 20mins later...
-
Spinach and Feta Cheese Ravioli
This was surprisingly good. Well, the restaurant boasts of its Ravioli so it is to be expected. I've had Ravioli in Rome during my last trip, and the one I had this evening was just as good.
The pasta was cooked just right, with chunks of Pesto soaked in hearty Tomato Sauce.
Where the Feta Cheese comes in I'm not so sure. But taste-wise this was incredibly good.
-
A while later the other dish was served... *drumroll*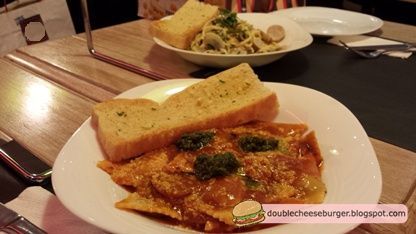 -
Seafood and Garlic Pasta
I love garlic so much. This was light and beautiful, the natural flavours blending in with the pasta. (The pasta appears to have been cooked in some seafood broth.) It had capers and olives, bacon (though too fatty), clams, squid, shrimp (frozen kind -- which was a little disappointing).
It was good in its own way. And I liked this dish too.
-
And the last, was the pizza.
-
Spicy Chorizo Pizza
The pizza was lovely. The toppings were just right, the cheese was nice. The dough I really liked. It was crusty, a little smoked on the underside, slightly salty, and the crust was crunchy on the outside and soft on the inside. (and not greasy unlike commercialized pizzas!)
It had a pretty even and generous distribution of chorizo so every bite was full of flavour.
-
I'm already thinking of my next
foodventure
here. :D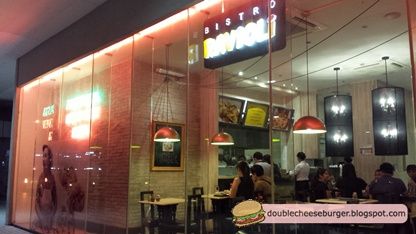 ***
Bistro Ravioli @NorthWingMOA
Overall:
Food 9/10
Service 9/10
Presentation 7/10
www.bistroravioli.com