Some things I'm bringing with me: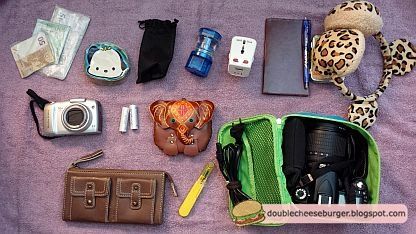 First row: money // little Pochacco coin purse I bought in Hong Kong in 1995/6/7/8..something. It was from a Gacha machine and I always bring this with me because it fits into my pocket and holds a lot of loose change. (
This travelled with me all the way to Taiwan when I took a summer program there too.:D
) // pouch for travel adapter (right) // travel adapter (old) // travel adapter with usb (new) // notebook with pages I made myself + erasable Pilot Frixion Pen // leopard-print earmuffs with ears //
Second row: my trusty canon sx110is (
slow and drains battery but very handy and I still use it for macro shots -- and also as back-up camera
) // eneloop batteries (I have yet to look for the other pairs!!T_T) // The elephant coin purse I bought from Madrid last year from an Indian vendor at
Retiro Park
. We have tons of local leather goods here too (I have some) but the craftsmanship is very crude (compared to this one).XD //
Third row: my trusty Mango wallet (it has a lot of pockets inside I can easily sort currencies in different sections + front pockets hold my extra memory cards and hair scrunchies) // pocket scissors I got from Jusco at HKD$10 // Lastly my Nikon D90 -- I love the grip and how it fits into my hand. And it almost always takes the shot.:3 It's heavy, yes, but so reliable.
Coffee and Matcha!! Will need it so I brought some to indulge in in the evening.:3
I mended my
Terranova
Knitted Grey Jacket. I bought it at a sale and didn't notice the hole. T_T I mended it using a crochet hook (to pick up the stitches) and placed the knot on the reverse side (I didn't have any yarn in this colour)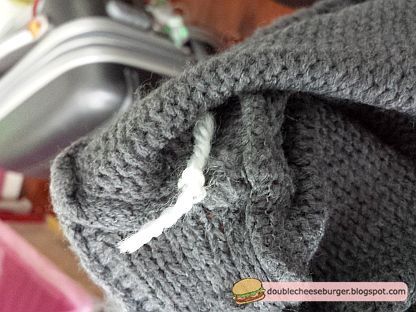 My DIY Rilakkuma bag. Sometimes there's just a need for an extra bag! XD I filled it with a bulky sweater...
...and it can be used as a pillow on the long flight.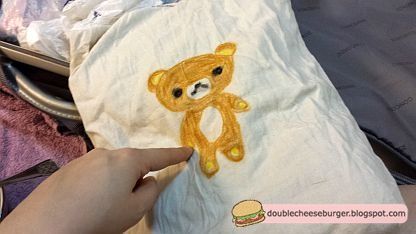 Hehe, I couldn't resist using a purikura app to edit this photo!