I bought these a couple of months back but just tried it out today.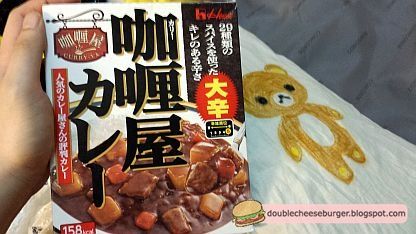 This is
House
brand Retort Pouch Curry. There are choices of Sweet, Medium Hot, and Very Hot. I bought Very Hot. (don't worry -- it is not as hot as you think)
Retort-pouch curry is quite popular in Japan and there are even some versions infused with other flavours like Strawberry or Sakura. But here, I can only get the classic kinds. :P
(I did manage to buy one with
apples
in it before! -- it was also from
House
.)
It's meant for one person but I divided it in two.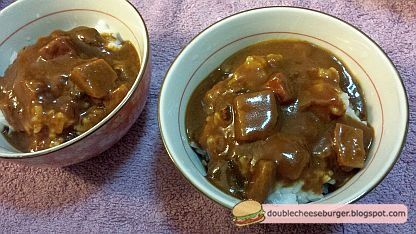 I heated the pouch for a bit (2-3mins) and poured the contents over hot jasmine rice. Mmmmm.
I drank coffee while eating the curry and I love how the contrast in flavours complements each other.:D
House curry
has a a moderate amount of beef, potatoes, and some carrots.
The contents are not so bad compared to ones sold at 100yenStores/Daiso (which are very saucy with very little meat).