Bought this 10-CD set last week, it was on sale, lol, and it was a waste not to get it...
(photos in this post taken with PSP Camera)
And bought these dictionaries today. I just realized I already have four Larousse Dictionaries.:D One I used for French class years back, and these three. ;)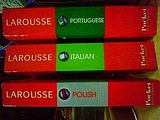 I got them today. :D I'm not familiar with these three languages, I just want to own them.;)
.
This is a photo from last weekend, taken with my psp..>_<
.
Err, and yes, still testing out my camera with photos of myself while I was on my comp! xD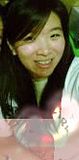 ~
Today: Bought this set of cheap earpluggies to replace my old ones.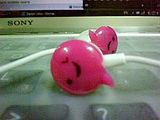 ~
Have a lurrrve-ly night everyone.
おやすみ!
Bonne Nuit! :D