Hello, these are the new yarn I've mentioned some time ago...XD Haven't gotten around to using any yet, but I'm excited to make something out of this!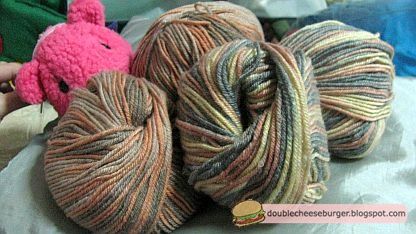 At the moment I feel challenged to make a beret. Probably not so difficult, but for a beginner like myself..... Hmm, we'll see what it'll end up looking...;D
--
Knitting aside, it's September, and I'm one month
or so
away from finalizing this year's trip. :3
How does "München - Köln - Milan - Florence" sound? I can't wait to come back to Germany....XD And I look forward to visiting more cities.XD
Ah, one place at a time.X3
I should take my German studies more seriously as well.n_n; And learn to read the menu because all I ever eat are sausages, pommes frites, schnitzel or bread! =_= Heh. Okay, once I tried to order something else, there was an elderly couple and I asked them what they were eating in German, because I wanted the same thing. :O I had them repeat the phrase for at least 3 times, until I finally almost got it, and they were so patient! XD It tasted so good but now I can't remember what it was.X_x
I hope all goes well as planned! <3
--
New books to read:
G.P. Taylor - Tersias
Julian Fellowes - Snobs
Julian Fellowes - Past Imperfect
Christie Dickason - The Firemaster's Daughter
-- so much to read, so little time.
--
Finally finished watching all seven seasons of El Internado!
Now I'm watching El Secreto de Puente Viejo, and while I haven't found eps.72 onwards, will get started on El Barco / continue watching Gran Reserva.
I've gotten really hooked on ESDPV. :3
---
Ah, and also need to catch up on anime, I haven't seen any in months! :P
My weekends are spent watching Japanese dramas.
---
While I would love to blog about my trip, there is way too much keeping up to do and my hands are full.XD
Until then.XD