Just as I promised, making it up and posting some stuff from earlier this year.
In February, (
amidst the moving-not-moving phase
), we came across my sister's old univ stuff and found a bag full of Kuretake Markers. Coincidentally, I wanted to buy Copic Markers but found them too expensive... some 11,990 for a set that comes in a case. Kuretake Markers are not cheap either. But considering my sister had to use them in Design school before (
and swears she doesn't want those damned markers anymore
), I am very
lucky
.
In the long run I might want to buy a few extra colours, but for now I will make do with the ones I already have.
2016/02/04
Trying my hand at markers and this is the first one I drew:
A Jaegermeister bottle! :D -- also my first liquor bottle illustration.
It is not perfect. I'm only just learning after all. The lines are crooked too.
Made this in under 10mins, but I know I need to practice.
(
Recently I discovered the world of illusive 3d-art. Mixed media but I'd love to give it a go. Would take me hours but it's worth a try.XD
)
Next up is a classic Guinness advert: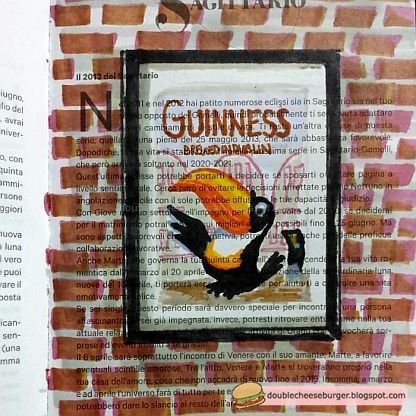 Amazing this stuff works even after being used and left in storage for some 10years..:D
LIKE and FOLLOW ::
[
INSTAGRAM :: xxpepperonixx
] -and- [
TWITTER :: miyuupepper
]
❤ ♡ ❤