Spent most of the evening lining up posts for my photoblog.
Some photos I have recently posted, and have yet to post: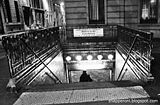 Location are as follows, repectively:
- *Jardin des Tuilleries, Paris. - *The (2008 Olympics) Bird's Nest Stadium, Beijing. - **Metro, Paris. - **An underground passage, Paris. - *Detail of church exterior, mnl. - *Fountain (no longer in operation) at Plaza San Lorenzo Ruiz, mnl.
(*Canon SX110is. **Nikon D90.)
More @
Snapperoni :: Photography
.
A visit.comment.follow is most welcome!