This morning I had to secure some travel documents at the Foreign Ministry.
Got there earlier than my scheduled time, so thought I'd grab something to eat.XD
I can't remember the last time I had breakfast at McD! n_n; [Probably during my univ. years!]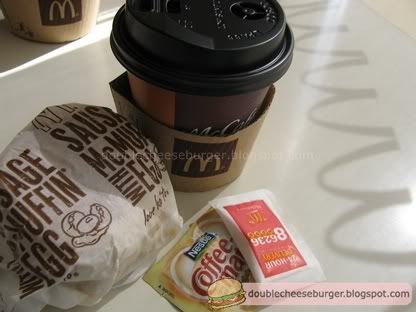 I love their Sausage Egg McMuffin! (
....I was craving for this for a while now, believe it or not.
)
Was still hungry after that and had two more hashbrowns (
I feel guilty eating something overly greasy in the morning..
)
Downed it with super hot coffee! ... (
..haha, which didn't really do much about keeping me awake for the rest of the day....
) xP
-
Why does
McMorning
remind me of
McDreamy
from
Grey's Anatomy
... :3