Not much have changed, I'm guessing.
This was Hong Kong back in 2006, wonderful view.
...
Ages ago, this used to be on the 'Travel' page of my blog. Funny to have come across this photo today while browsing some of my old files.XD The photo is a product of my old Nokia phone, I'm quite surprised myself! There are glitches though, at times.
...
Ever wonder how crowded Hong Kong's streets can get?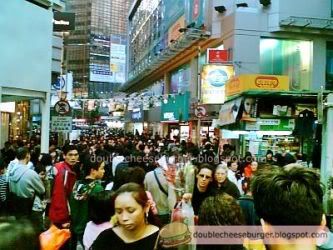 This was along Jardine's Bazaar (@ Causeway Bay), a street lined with shops popular among the young as a hip fashion haven. [kind of like Japan's Takeshita Dori (@ Harajuku), except Jardine's Bazaar was busier...and t'was almost impossible to shop, really.XD]
...
By the way, that yellow sign (with red text) you see on the right, it's a popular local fast food place. Great food.XD ..with a load of choices. I don't mind Breakfast, Lunch, and Dinner at this place!:P (...since they have different items for BLD almost everyday, save for a few staples.) Err, of course other food places are a must-try too. Thing is you find great food at almost every corner in Hong Kong, and all very greasy, which makes you feel guilty after the trip.xP